Rooms & Suites
The Truk Stop Hotel has a variety of well appointed accommodations to choose from and all are air conditioned with private bathrooms, refrigerators, phone, built in closet, overhead fan, and TV with DVD player.
Our Economy Rooms are spacious and include a private balcony which provides a view of our island. Our Ocean View Rooms and Suites have parquet flooring plus a full view of the Truk Lagoon from each private balcony.
The Truk Stop offers several fully furnished apartments for guests who want more space to spread out and with the comforts of home. These apartments are well air conditioned, have a full kitchenette, and separate living area to read, watch tv, and relax.
Our deluxe apartment is a very tastefully decorated one bedroom unit with a full bath and walk-in closet in the master bedroom, a kitchenette that includes a full size refrigerator, microwave, coffee maker and blender, plus a half bath in the living room. This apartment also has a private phone, wired internet connection, TV & DVD player and offers the best view of the Truk Lagoon in Chuuk from the living room.
All rooms, suites, and apartments are connected to our stand-by emergency generators and in-house water supply, assuring our guests of uninterrupted power and water on a 24 hour basis.
For large group reservations please E-mail us

This email address is being protected from spambots. You need JavaScript enabled to view it.

.

STANDARD ROOM - from $125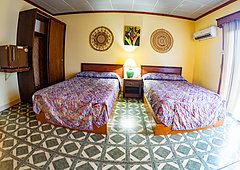 Beds: 2 Queen(s)
A/C
WiFi
TV
Shower
Telephone
Kitchen
---
OCEAN VIEW ROOM - from $135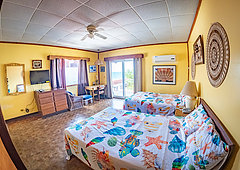 Beds: 2 Double(s)
A/C
WiFi
Safe
Shower
Telephone
Private Balcony
---
MICRONESIAN SUITE - Standard - from $155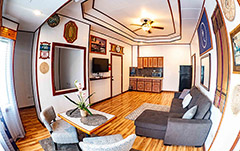 Beds: 1 Queen
f2dc A/C
WiFi
TV
Safe
Shower
Telephone
Kitchen
Towels
---
PRESIDENTIAL SUITE - from $155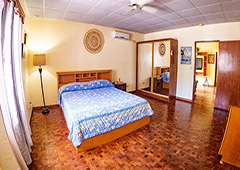 Bed: California King
A/C
WiFi
Shower
Telephone
Kitchen
Private Balcony
---
EXECUTIVE SUITE - from $155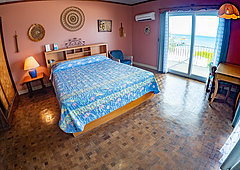 Bed: California King
A/C
WiFi
TV
Shower
Telephone
Kitchen
Private Balcony
---
MICRONESIAN SUITE - Ocean View - from $165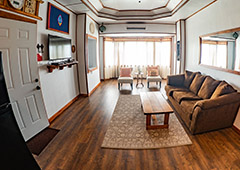 Beds: 1 Queen
A/C
WiFi
TV
Safe
Shower
Telephone
Kitchen
Towels
Private Balcony