Land Tours​
Chuuk has a living culture plus a rich World War II history that is very visible today and well worth seeing. The Truk Stop offers a land tour of Weno Island that last about 4 hours and winds it way slowly through the past, the present, and gives just the slightest glimpse of the future.
The tour gives the visitor an excellent view of our town, stores and businesses, land, housing and structures, agriculture, our people, and the influence of past influences that impacted our lives.
Xavier High School
The main attraction on this land tour is the old Japanese Command Center in Sapuk Village which is now Xavier High School. First started in the 1950s, Xavier High School is run by a Jesuit Order out of New York and is Micronesia's most prestigious high school, with students attending from Palau, Yap, Chuuk, Pohnpei, Kosrae, and the Marshall Islands.

Japanese Lighthouse
The Poluwat Lighthouse was built around 1940 by the Japanese to assist with navigation of ships between Palau and Chuuk. Due to the lack of heavy machinery the Japanese used forced labor of the local people of Poluwat and neighboring islands to build the lighthouse. It was discovered by American reconnaissance aircraft in 1944 and was attacked by U.S. forces during WWII. The lighthouse was abandoned and never rebuilt, eventually becoming overgrown with tropical vegetation.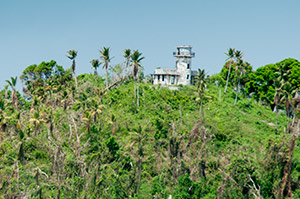 Also on this tour are several caves that still contain the old canons from the war. These remnants of the war are as they were left with the only changes being the wear and tear caused by the passage of time.
A land tour in Chuuk is a great opportunity to touch history plus mix and mingle with old and young men and women who are happy to pose for your camera and share a moment with you. And, while no two land tours are ever the same, it is always an adventure and part of the Chuukese experience.